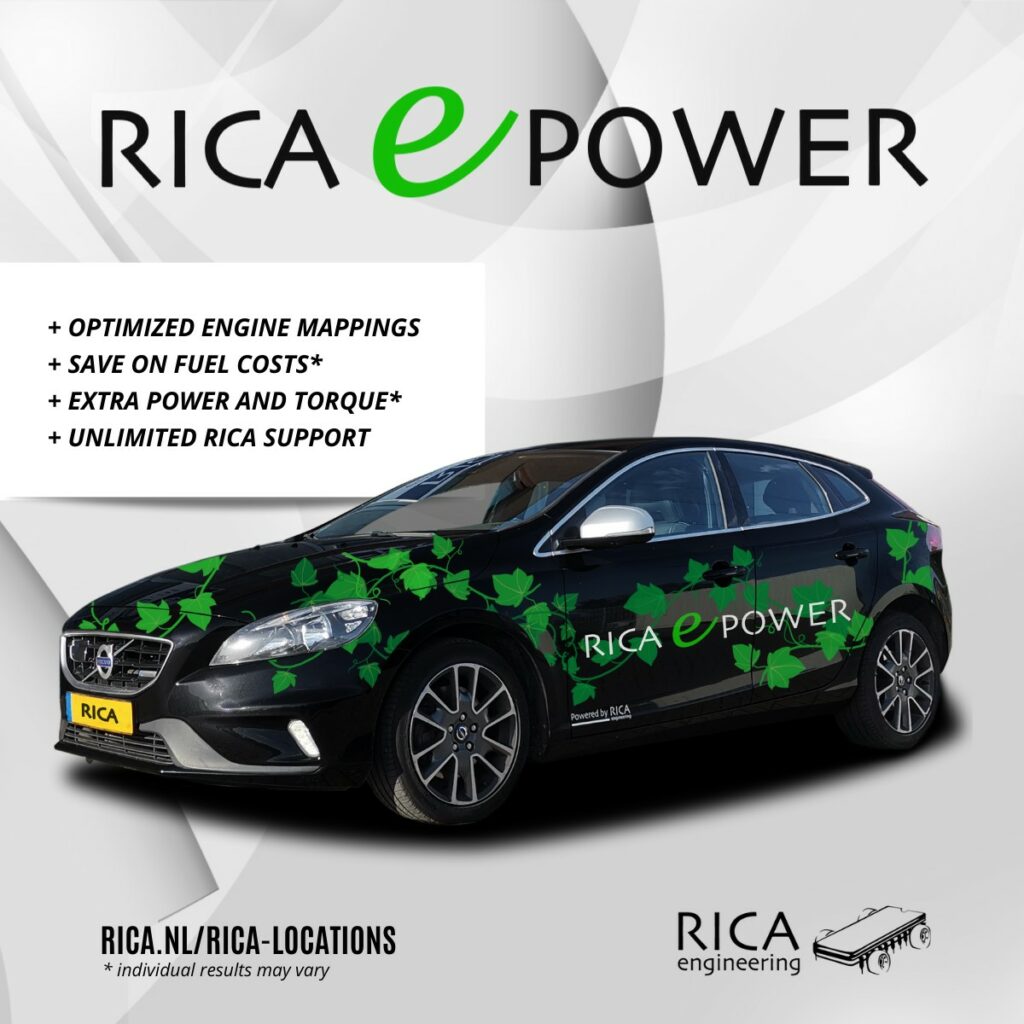 Rica E-Power / Eco tuning
The Rica E-Power / Eco tuning upgrade is optimised for maximum fuel efficiency and reduced CO2 emissions. Fuel economy gains of up to 10% can be achieved depending on your driving style. This upgrade is also specifically designed to produce exactly the same power and torque as the Volvo approved upgrade. This allows you to buy the Rica E-Power upgrade with full confidence, knowing that the Rica E-Power performance specification will not affect the reliability or durability of the car in any way.
The E-Power upgrade is available for the following engines:
1.6 D (DRIVE) 109 Hp V70/S80
1.6 D 109 Hp
2.0 D4 190 Hp VEA
2.4 D3 163 Hp 420 Nm 2012
2.4 D4 181 Hp 420 Nm 2012
2.4 D 163 Hp Euro 4
2.4 D 175 Hp Euro 5
D5 163 Hp Euro 5
D5 163 Hp Euro 5
D5 180 Hp 350 Nm
D5 180 Hp Euro 4 C30/C70/S40/V50
D5 185 Hp Euro 4
D5 205 Hp
D5 215 Hp 420 Nm
D5 215 Hp 440 Nm
Price: from €332,-*
* ex. VAT.
NEW: Up 37% fuel consumption saving with the E-Power V40 D4 tuning
We have developed our new E-Power tuning to offer you the very best cost-saving option for your Volvo for only €332!
We are aware that life is getting more expensive and that your car is costing you more than is necessary. We wanted to come up with a powerful solution to really save up on costs and that is exactly what we did. After months of testing with the V40 D4 (manual), we can now offer you the new and improved version of the E-power tuning!
Our E-power tuning has optimized engine mappings and even gets an extra 50Nm of torque!
Get your Rica E-Power Tuning now and start saving!
These are the mind blowing results of the new Rica E-Power V40 D4 tuning:
With a driving speed of 100km/h on a 50L tank:
V40 factory software: 1139 km
Rica E-Power: 1563 km
Fuel consumption saving: 37%
With a driving speed of 120km/h on a 50L tank:
V40 factory software: 1020 km
Rica E-Power: 1190 km
Fuel consumption saving: 17%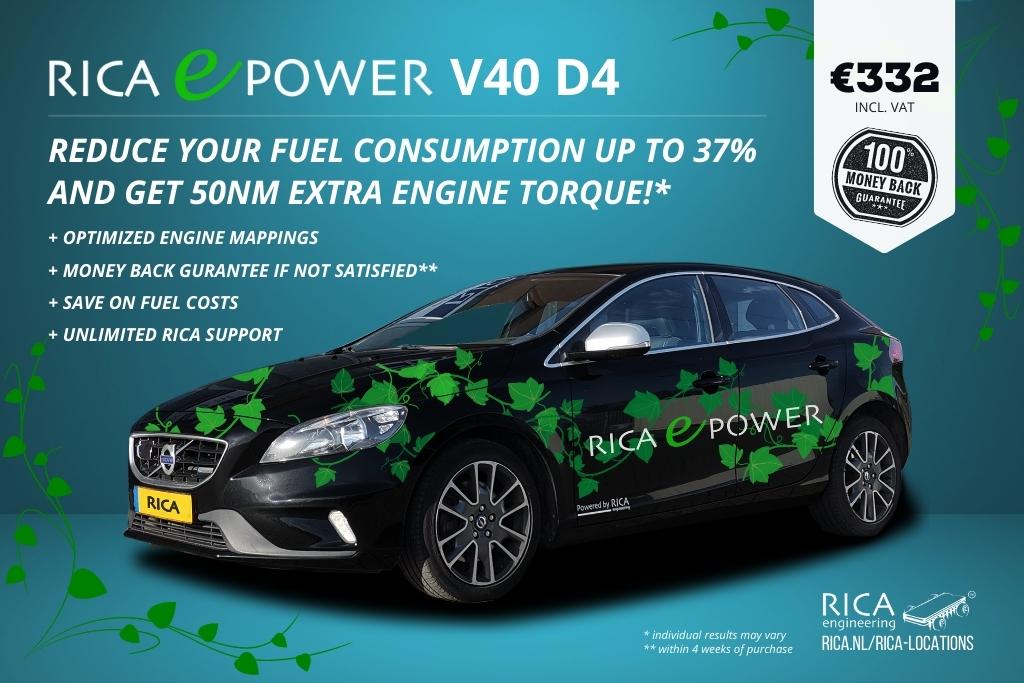 Read more about:
Or contact us directly: